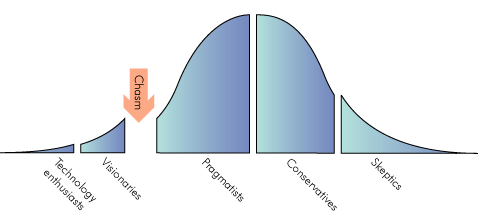 While blogging about Open Source AT, Jeff at sustainablog poses an excellent question: "Is this a concept that generally will appeal to the more technically inclined, but leave the rest of us out of the loop?" This question strikes at the heart of technological innovation and adoption, and should be taken seriously by anyone hoping to apply Open Source to Appropriate Technology.
The chart above shows the Technology Adoption Life Cycle, a concept pioneered to help agricultural extension agents with the diffusion of new technological innovations in rural farm economies. It was then applied to the market of high-tech by Geoffrey Moore in his book Crossing the Chasm.
Moore argues that the chasm is the gap between the needs and perceptions of the early adopters (technologists and visionaries) and the early majority, or the pragmatists. According to Moore, the chasm exists because the early adopters are a poor point of reference for the pragmatists, whose needs are oriented towards measurable incremental growth rather than visionary outcomes or the joys of technological tinkering.
If we look at the case of GNU/Linux and other Free Software, we realize that it is just now in the process of crossing the chasm. Usability and a rather esoteric user community has diminished the appeal of GNU/Linux to the pragmatists and conservatives of this world. But now, as the software becomes more user friendly, this is beginning to change. The emergence of a solid service sector around these products will propel GNU/Linux and other Free and Open Source Software across the chasm and beyond. Just look at the success of Sugarcrm.
Open Source Appropriate Technology has the potential to come of age in the same way as GNU/Linux. But that won't happen until we build a vibrant user community, based on accepted standards with a set of commonly used practices and techniques. Once the collective knowledge has been firmly established in cyberspace and beyond, communities around the world will be empowered to create their own technological landscape, one whose scale and impact is socially and environmentally appropriate.
So the answer to Jeff's question is yes, at least until we cross the chasm with appropriate technology.